Sydney Removalists – Man and His Van
With a proud history of over 20 years experience, specialising in home, unit, and office removals, we consider ourselves to be the best removalists Sydney has to offer and have plenty of satisfied customers to vouch for our quality of service, and value for money. We are passionate about removals and this is shown in the level of service that we offer, at an affordable price. There is a reason why Man and His Van Removals, in our opinion, is the number one budget removalists in Sydney! For removalists Sydney, all you need to do is give us a call, and let our professionalism shine through.
Read More
Sydney Furniture removalists with 20 Years Experience
We started as specialist removalists, offering cheap removals in Sydney and surrounding suburbs, over 20 years ago. Starting off with just one man and a van, we have grown to operate a fleet of vehicles, as well as a small army of experienced, polite and extremely knowledgeable removal staff. With our experience in the removalist industry, we know that attention to detail and good planning is important to ensure that you have a smooth relocation. You can sit back and relax, whilst we take care of the details and have peace of mind that you are using the services of professional furniture removalists in Sydney.
Planning and Packing for Removals Sydney
With our wealth of knowledge, accumulated over the years offering furniture removals in Sydney, we are able to determine your removals requirements from a single phone call to our office. Speak to one of our office staff, all experienced removalists in their own right, and they can guide you through the moving process. They can explain the work involved in packing up your possessions and loading them onto one of our fleet of clean, and highly maintained vehicles. We work out a basic strategy to get everything packed safely and securely and in a timely manner. All the work is done by our highly trained and professional staff, these are the people who help to make us the best Sydney removalists. Choosing affordable removalists in Sydney, does not mean you have to forgo quality of service!
Take the Stress Out of Moving
For removals Sydney, anywhere in and around the surrounding suburbs, or even going out of state, we take all the stress out of your move, leaving you to relax knowing your move is in the best possible hands. From your first initial enquiry, right down to the day of your move, you will find all of our staff polite, efficient and attentive. All you need to do is sit back and relax, whilst all of your possessions are packed lovingly and caringly, with as much attention to detail as you would give yourself. Home removals do not have to be full of stress, if you let the professionals help you!
No Removals Job Too Big or Too Small
If you are looking for Sydney City removalists, then look no further. We specialise in removals and storage solutions whether they are large, or small. As a leading Sydney removalists we can offer you storage solutions throughout the city and surrounding suburbs, as well as offering removalist services for these areas and out of state. No matter what your requirements are, call us today and see how we can help you with your storage or removal needs.
Satisfaction Guaranteed
So for removals in Sydney, or storage options, give us a call today, and we guarantee you will be happy with the level of service that we offer. Just look at all of our testimonials from satisfied clients to see what our customers have to say about us. We are here to help you with any of your removal or storage needs, from small furniture removals Sydney to moving the contents of an office building out of state, we have the expertise to make your relocation go without a hitch.
Give us a call on (02) 9907 3139 and see what makes us stand out from the competition, and why we think we are the number one Sydney removalists!
Sydney Storage
For your convenience the Removalist Sydney CBD offers four storage facilities in Sydney. (All of which we own and operate).
You can choose from short, medium or long-term storage options.
Interstate Removals
The Removalist Sydney CBD has 2 decades of experience in interstate removals and is the expert Sydney based company you can rely on to assist you with the more complicated longer distance home and office moves.
Insurance
Insurance premiums for removals vary relative to the size of the job and the distance travelled in the move. It is recommended you take out insurance to cover your goods during your move.
Give us a Call
(02) 9907 3139
Well once again the boys from Man and His Van, did an outstanding job
LATEST FROM THE BLOG

Moving is stressful enough without finding things broken when you arrive at your new home, but there are some simple rules to follow when packing your belongings that will ensure they arrive safe and sound and in one piece!
AFRA Approved Member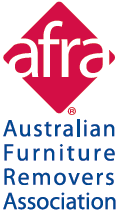 AFRA is The Australian Furniture Movers Association. For your Peace of Mind choose an AFRA approved Member.